Science Outreach Program
Our high school students reached semifinals in the national Young Researchers Competition
Experiences from Our High School Project in the Komorowski Group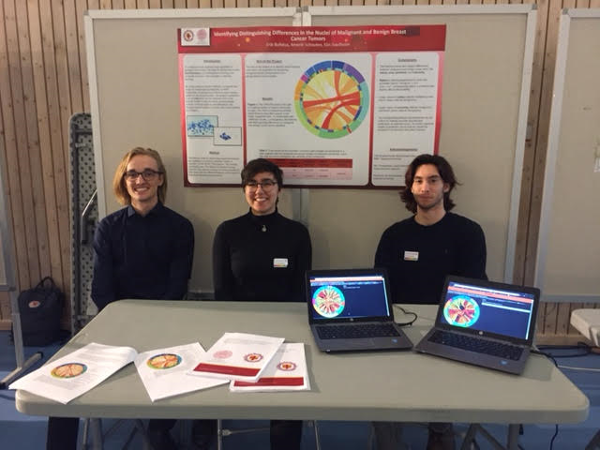 Erik Bolkus, Elin Svedholm & Amerik Schouten of the Katedral High School at the National Young Researchers Competition
In August 2016, we spent one week at BMC working with Prof. Jan Komorowski and his colleagues on our high school examination project. This week proved to be an exceptional opportunity for us to both learn about bioinformatics and also, for the first time, gain insight in how it is to work in a group of scientists. With the help from Prof. Komorowski and his colleauges, especially PhD student Husen M. Umer, this week and the work following resulted in a scientific report the three of us are very happy with. The resulting report even gave us a place in the semi-finals of the Unga Forskare competition and this would not have been possible without the help and support of Prof. Komorowski and his group.
We were put in touch with Prof. Komorowski and his group through our teacher Mia Pontoppidan at Katedralskolan and we were presented with a project regarding analysis of differences in malignant and benign breast cancer tumors through applied machine learning. Before the week at BMC, we had a few preliminary meetings with Husen where he helped us grasp the basics of the project and introduced us to bioinformatics through an introduction-project regarding classification of different iris-flowers. This was much needed and appreciated, since before the project started, we had close to no knowledge regarding the field of bioinformatics.
Our week at BMC has provided us with many insights regarding further studies at university, in addition to our improved knowledge and understanding of bioinformatics and its applications. We have through our work at BMC learned a lot about the process of working with a scientific project from start to finish, writing a proper scientific report and working with these things independently with supervisors to turn to when needed. Our supervisors provided the help and guidance needed, but at the same time they provided the space and opportunity to work independently and explore the project and bioinformatics by ourselves. This allowed us to gain much more from the project and the process of writing the report than what we otherwise would have gotten. This approach suited us very well and helped us to push ourselves further and learn even more.
We would like to thank Prof. Komorowski and his colleagues for their warm welcome in to their group and daily work. They have all contributed to a great experience at BMC and their guidance and enthusiasm have inspired the three of us even further to pursue studies at university. We would especially like to extend a warm thanks to our supervisor PhD student Husen M. Umer for his never-ending patience, competence and guidance, since we never would have been able to complete the project and report without his help.
Thank you for an unforgettable high school project!